Past AUBA Moderator, Brother George Gray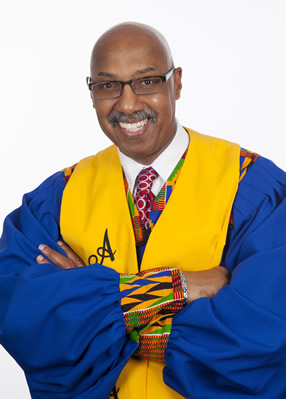 Brother George Gray, son of the late Rupert and Sarah Gray was born and raised in Halifax, Nova Scotia. He was educated in the Halifax Public School System and went on to receive his Bachelor of Arts and Education degrees from Mount Saint Vincent University. Wanting to further his educational goals he pursued and completed a Master of Education degree in Administration from Saint Mary's University and a Master of Education degree in Curriculum from Mount Saint Vincent University. In 2012 Brother George retired from the Halifax Regional School Board after serving thirty five and a half years as a teacher, vice principal and ending his career as principal of a Junior High School.
Currently he is a member of the Black Educators Association of Nova Scotia where he has served as 2nd Vice President. His interest in promoting and assisting children has found him serving as board member of the Akoma Family Centre in Dartmouth. Brother George, with a deep interest in historical and cultural endeavors has resulted in his serving as past member of the Doors Open Halifax Heritage Society Board of Directors.
Brother George Gray is a long standing member of Cornwallis St. Baptist Church where he has been involved in various committees and organizations. Over the years, he has worked with the young adult, senior and revival choirs of the church to present Easter Cantatas. He has served as past Secretary of the Trustee Board, past Sunday School Teacher; past member of the Usher Board; past Chairperson of the Board of Management and past Chairperson of the Church Anniversary Committee for over twelve years. Presently, he is Chairperson of the Church Historical Committee a position he has held for a number of years.
From 1986-1988 Brother George was the Education Committee Chairperson of the African United Baptist Association of Nova Scotia. He served as Chairperson of the African United Baptist Association Quarterly meetings for District #2 from 1989-1991. He has been a Counsellor and a Provincial Supervisor for the Baptist Youth Fellowship (BYF). Brother Gray was installed as the Moderator of the AUBA at the 161st sessions held in Cherry Brook on August 17, 2014.
He is married to Terri (Lucas) Gray and together they have four children, four grand children and one great grand-daughter.
Colossians3:23 "And whatsoever you do, do it heartily as to the Lord, and not unto men"
Contact Information:
Office Location: Upper Level – Black Cultural Centre for Nova Scotia
10 Cherry Brook Road, Dartmouth Nova Scotia B2Z 1E9
Telephone: 902-434-8837